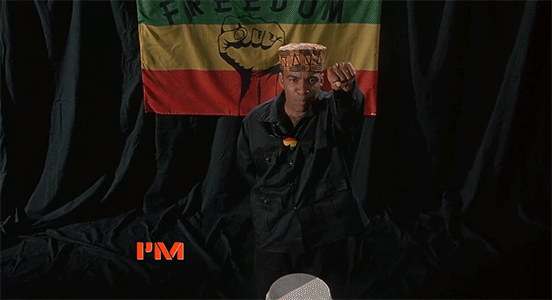 Guys, we have made it to February. This means that it's Black History Month. Yes, it's relevant. Yes, Black History Month is still needed. Yes, we are going to give you some Black facts. Let's get into it. (Sidenote: I'm so excited that the blackest movie of the year will be gracing our big screens everywhere February 16. February 15 if you bout that life)
January 1, 1808 the Act Prohibiting Importation of Slaves into any port or place within the jurisdiction of the United States was put into law. Signed in by congress.
The Act of 1820 made piracy or the act of participating in the African slave trade punishable by death.
The last Slave Ship is said to have landed in America on November 28, 1858. You can read the rather interesting story here
Black Power, a term we all know and love was coined by Stokely Carmichael (A.K.A Kwame Ture) during one of his speeches while finishing James Meredith's March Against Fear in June 1966. S/O's to our fellow HU Alum *insert Howard hand here*
There is long debate about which HBCU was first Lincoln (PA) or Cheyney. Per Lincoln's website they are the nation's first degree-granting HBCU founded in 1854. Cheyney has a long history regarding their foundation, Cheyney went through a lot of transformation in it's early years. They are said to be founded in 1837. You can check out their story here.
The first Black Owned bank was called True Reformers Bank founded March 2, 1888 by Reverend William Washington Browne and officially opened on April 3, 1889.
Black History Month started off as Black History Week in 1926 by the Association for the Study of Negro Life and History (known today as ASALH) which was founded by Carter G. Woodson and Jesse E. Moorland in 1915. In 1976 Black History Month was officially recognized by President Gerald R Ford even though it had been celebrated as a month in many parts of the black community since the late 1960's.
Alice Ball (1892 – 1916) was the first black woman to graduate from the University of Hawaii with a Masters in Science. She became an instructor at University of Hawaii and began work isolating compounds to develop an injectable drug to treat leprosy. (Alice Ball was a BAD woman, she did all this by the age of 24 when she met her untimely death on December 31, 1916)
Dr. Alexa Candy was the first black woman to become a Neurosurgeon and went on to be the chief of neurosurgery at Children's Hospital of Michigan in 1987.
Louise Stokes and Tidye Pickett were the first black women to qualify for the Olympics for Track and Field in 1932 but were not allowed to participate because of their race. They qualified again 1936 and were the first black women to represent their country in the 1936 Olympics in Berlin.
I had a lot of fun putting this list together. We will be posting more black facts throughout Black History Month so be on the lookout and let us know below what you thought about these facts.